Uniform
WEAR WITH PRIDE…
It is expected that the Academy uniform will instil pride, support positive behaviour and create a shared legacy with those that have worn it before.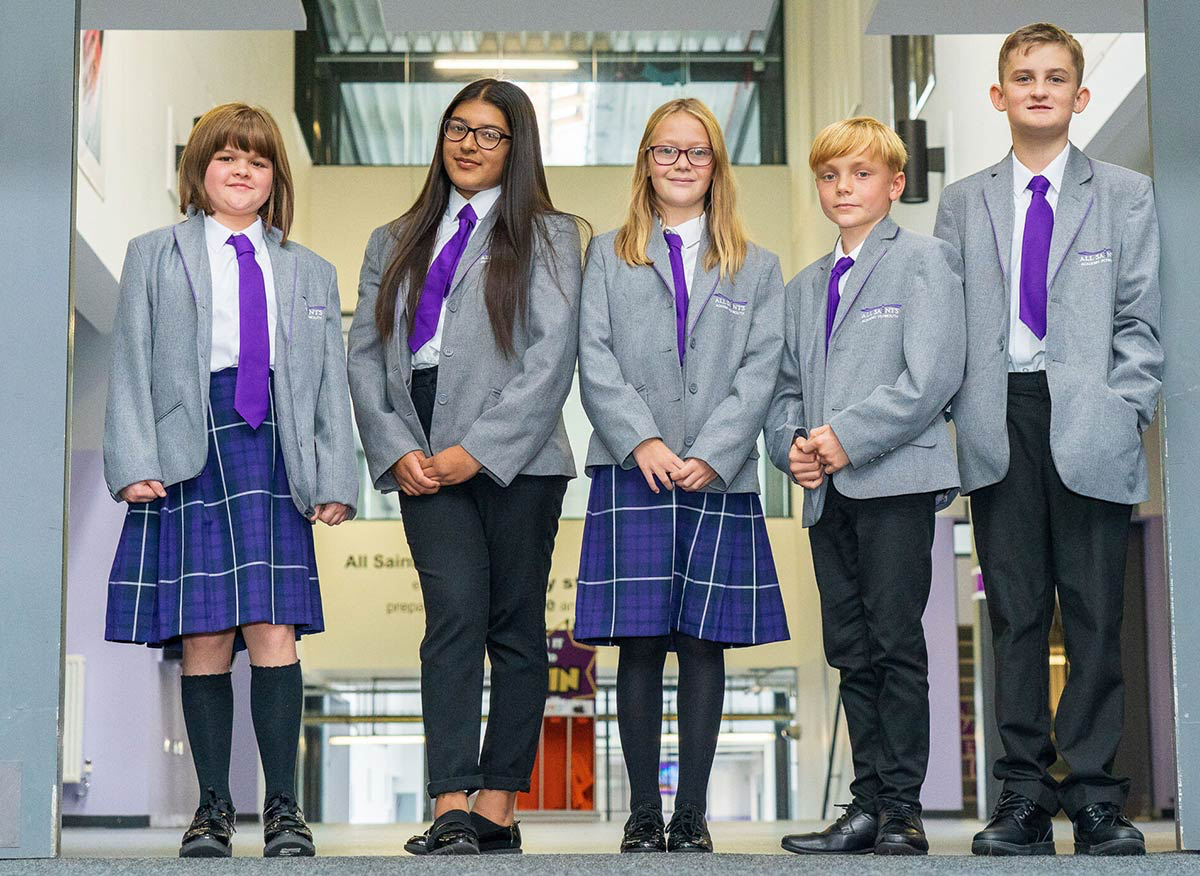 As a school committed to our shared legacy, we know we have to be as inclusive as possible in order that everyone feels loved and like they belong. When we consider uniform, we try to make it as equal as possible amongst our students: we want to avoid comparisons between brands, between expensive items, and ultimately between children who have and those who don't. This is why we have such clear uniform standards: no jewellery means no child is tempted to wear in an expensive present that may get lost, just so they can 'fit in'; non-branded shoes means no parent feels the financial pressure to buy the most expensive pair of shoes; no excessive make up means no pupil feels the morning stress to look a certain way, when they should just be looking forward to their day. Now more than ever, we feel our uniform policy helps our families: branded clothing has become more expensive and budgets are tighter than ever before. We will always try and support any families who are struggling to purchase key items so that all of our children can not worry about style, but concentrate on education.
Uniform Ordering
Our school uniform is now available to purchase from Trutex, located on Billacombe Road, Plymouth – Plymouth Trutex website
Alternatively, blazers and ties can be ordered directly from Price and Buckland- Price & Buckland Uniform – Online Ordering
Second Hand Uniform – we have a limited stock of donated items, both logo and non-logo, available to purchase from the Academy. Please email [email protected] stating the item/s and size/s you require, we will check availability and respond to your query accordingly.
Description

Further Information

Academy blazer
Grey with purple piping and Academy logo
To be kept smart and worn during the day as well as to and from the Academy, unless directed otherwise by staff.
Sleeves to be worn at full length and not rolled-up. Only Academy issued badges to adorn the blazer.
Trousers
Black, formal, classic style, full length
No jean-like, corduroy, high-fashion, overly-tight trousers, leggings or shorts. Trousers should be worn with a secure fit around the waist. Belts should be black, plain and functional. Trousers should not be tapered.
Skirt
Official school pleated tartan skirt
Skirts should be the official school pleated "warrior tartan" skirt. Skirts must not be shortened by rolling them up at the waist.
Shirt
Plain white traditional school shirt
The shirt should be tucked in, buttoned at the neck and sleeves worn at full length. Any tee shirt or underwear worn underneath should not be visible. No designer shirts or fitted blouses.
Tie
Official school purple tie / Prefects – black tie.
Must be kept in good condition and worn with a closed knot covering the shirt collar button at the neck. Tie should be appropriate length.
Shoes
Polished black, traditional style, black stitching, black sole and heel. No trainers of any kind.
A plain design, no trimmings, logos, decorative buckles, coloured laces or stitching, labels, tags or other decorations. No shoe/trainer hybrid footwear with velcro fastenings, trainers or fabric shoes. No Vans. No ankle boots or long boots. No trainers of any kind.
Bag
Appropriate for school use
Must be able to carry A4 sized books/folders.
PE top
Black polo shirt ActivDri with purple side panel and logo
Official school sports hoodie (optional – recommended for cold weather)
Official school rugby top (recommended for boys)
PE shorts
Black shorts with Academy logo
PE trainers
Astro/training shoes
Football boots (moulded studs)
PE Socks
Black Football socks
Can be purchased from any sports shop (e.g. Sports Direct)
Further Information
Jewellery / accessories

No earrings except one pair of small stud earrings (max 4mm in diameter), in the earlobe only.
No other visible jewellery including bracelets, wristbands, necklaces or ankle bracelets.
No oversized buckles or belts
No nose studs, facial or body piercings are permitted.
No rings.

Hair

No decorative attachments are to be worn in the hair
No Mohican style or shaved lines in the hair are permitted
No shaved patterns in eyebrows are permitted
No extreme hairstyles or contrasting colours are permitted. Un-natural colours or bleached hair is not permitted.

Make-up / appearance

Make-up must be discreet.
No heavy eyeliner
No nail varnish or nail extensions
No false eyelashes
No lip gloss or lipstick

Headphones and mobile phones

Mobile phones should not be seen or heard, as detailed in the mobile phone policy, during the school day on the Academy site. Students who ignore this policy and use a mobile device and associated items (e.g. headphones) on school premises will be required to hand over their device and associated items to a member of staff. This is logged as per the Behaviour for Learning Policy and the following procedure applies[1]:

1st time: mobile device confiscated and left behind reception for the student to collect at the end of the day;
2nd time: mobile device confiscated and left behind reception. Parents/carers informed and asked to collect at the next convenient time;
3rd time: mobile device confiscated and left behind reception. Parents/carers informed and asked to collect at the end of the working week;
4th time and additional times: mobile device confiscated and left behind reception. Parents/carers informed and asked to collect at the end of the working week. Additional sanctions will apply such as time in the Ready to Learn Centre, student required to hand over their mobile device on a daily basis, parent meeting with a member of the Senior Leadership Team.
Students who fail to co-operate with this policy will then be managed in line with the Behaviour for Learning Policy with reference to the refusal to follow staff instructions sanctions.
[1] The repetition of offences is applied throughout the academic year.